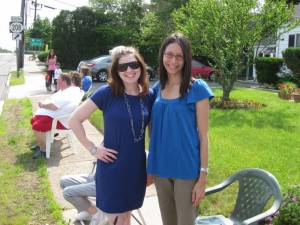 So I am a little late in instituting what I hope will be a "thing" for 2011.  Momfriends of the Month.  Here at the Momfriends HQ, we like to celebrate actual friends, not just characters in books.  So for February we meet Ratha and Pam from New Jersey.  Find out in their own words what makes them such great Momfriends.
Describe your first meeting.  Was it love at first sight?  Who approached who?

Pam: The first time we met was at breastfeeding support group. But the first time we talked was at the Mom & Babies Group. I asked you to join the playgroup and you said no.
Ratha: Oh my God, I totally forgot about that! I can't believe I said no!
Pam: I don't think playgroups were your thing.
Ratha: I know, that's right. I was like a bit anti-social a bit at first.
Pam: No, you weren't! It just wasn't your thing. Then I brought Colby back to see the breastfeeding teacher, Elaine,
And we talked again. Colby was about 7 months and at the end of the group, so Ava was 4 months.
Ratha: Oh, I remember Elaine, she called Colby her boyfriend.  He was such a little cutie. He was always so happy and smiling!
Pam: So she had us introduce ourselves and we were both from the same town, and we exchanged information. It was like asking someone out on a date!
Ratha: Totally! It seemed somehow easier though, when you're a mom… and you have the excuse of your baby.
Pam: Moms aren't so quick to reject. Desperate! Especially a new mom!
What was the first time you guys made a separate playdate?  Where was it?  What was it like?  Were you nervous?  Did you wear lipgloss?
Ratha: Ava and I came to your house.
Pam: And you brought a pie.
Ratha: That's right! From ShopRite.
Pam: . . . And I cleaned.
Ratha: . . . And we had turkey sandwiches. We were always so polite, we always had lunches or snacks. Now it's take what you can get. We're on the run moms!
Pam: I doubt I wore lipgloss. But I might have dried my hair and not put it in a ponytail.
Ratha: In those days, it was an occasion, just to get out. I remember, I used to dress Ava in her nice outfits to go to your house.
Pam: I don't know if I was that thoughtful. They don't have as many cute outfits for the boys.
Ratha: True.  I can't remember if I wore lipgloss. I might have dressed a little nicer than usual though.
Pam: We used to bundle them up and go for walks outside too.
Ratha: Yep, it was always nice to get out.
What is one thing (or the most important thing) you feel you learned about parenting from each other?
Pam: That I'm not unique in my situation with my children, and there's someone else that can help me through it: Someone to laugh with. Your patience is unmatched by anyone else in the universe. My children would agree.
Ratha: Pam's an amazing sounding board who helps put things in perspective. She's like family – one of the first phone calls I make. She's also a teacher, and has such a vast knowledge of educational and fun ways to play and teach the kids. I pick up so many tips from her! And her birthday parties are amazing!
Have you had a night/day out without the kids?  How awesome was that?
Ratha: Yes! We try to get together every so often either just us, or with our husbands. I have to just also mention, after I had Jack (my second child), you took me out to Panera, and that was the first time I got out of the house after having the baby. It was the best time, and I'll always remember that.
Pam: Aww…
What was the first meeting of the spouses like?  Were you happy that they got along?
Pam: I think it was at our house.
Ratha It was casual, I think we ordered a pizza.
Pam: And we hoped they (the husbands) got along.
Ratha: And they did. Then we got the husbands together for a drink at a bar by themselves. Kevin accused me of trying to set him up on a "mandate."
Pam: And I think our husbands probably go out w/o the children now more than us! Not that they do it that often either.
How has having a momfriend made being a parent easier for you?
Pam: Because somebody can relate to what you're going through. You don't have to sugarcoat situations.
Ratha: And it's also like you get a whole new chance to make friends. You have your friends from school, college, work … then becoming a mom opens a whole new door. It's a whole new opportunity to make friends -Which isn't always easy as an adult.
Pam: Yeah, all my other friends were still dating, and didn't have kids. They were not around the hours of say . . . 9am to 5pm (not that they didn't still get it!) but you know.
Ratha and Pam got into the spirit by getting together (without children) to drink some wine and celebrate their friendship.  I encourage you to do the same and send in the results to be Momfriends of March. Or, even if you don't  want to be immortalized on my website, go have a drink with your best Momfriend this week. She needs it.